It seems like every few years a new training regimen comes around that takes the workout world and gyms by storm. Last year it was TRX, a few years earlier it was Pilates, and now, it's CrossFit Training.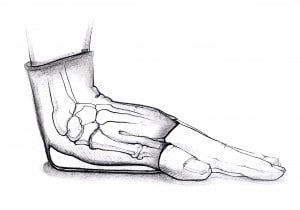 CrossFit is functional training using an array of exercises that combines aerobics, body weight exercise, gymnastics and weight lifting using barbells, kettlebells, dumbbells and sometimes uncommon things like a tractor tire.  The exercises can include anything from sprints, pushups, pullups, box jumps, muscle-ups, jump rope and situps.  Many of the exercises you don't need weights so they can be done inside your home, which is why it's becoming so popular – the convenience factor.
The down side though is that many body weight leveraged exercises  can strain the wrists, enough to cause pain and injury. It's not uncommon for wrists to be sore after an intense CrossFit training. Think about the popular CrossFit exercises that involve the wrists: pushup, pullup, handstands and burpee.  The burpee is a fast action sequence that includes a squat, plank, push-up, squat and jump up to stand.   As the momentum picks up, more impact is felt in the hands and the wrists from supporting the body's weight over and over again.
Wrist Assured Gloves (WAGs) are specifically designed to support the wrist joint and relieve the strain of supporting weight on hand –which isn't anatomically designed as a weight bearing joint. The contoured gel pad inside these workout gloves with wrist support is thicker at the heel of the hand which reduces the angle of the wrist in extension and absorbs the shock of impact. This takes the strain off of the ligaments and tendons to relieve and prevent wrist pain and provides wrist support for lifting weights. WAGs offer better support for your wrists during CrossFit Training then traditional work-out gloves, especially for exercises like pushups, burpee and handstands, where the wrist joints bear the pressure and weight of the workout. These therapeutic fitness gloves for CrossFit not only help with alignment and form, but offer secure, non-slip control of the exercises.
Start saving your wrists today!