If you are looking for a new way to train your muscles or want to add variation to your current routine, you should check out TRX. You've probably seen the little banners with the black and yellow straps popping up everywhere.  TRX uses principles of suspension training, which is making big waves in the fitness world. It's a great way to train for moves you would do in every day life – otherwise known as functional fitness.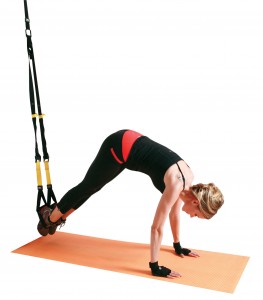 TRX is a weight bearing activity – using your own body weight to build strength, power, balance, coordination, flexibility, core and joint stability. It can also be great when it comes to preventing injuries and increasing bone density. Sounds good, right? Here are a few more benefits of TRX!
Regardless of your training goals the TRX can help! For starters, you can minimize your training time by working your entire body switching from one exercise to the next in just seconds. The best part is every exercise engages your core. You may think that your core is just your abdominals, however, it is more than that! Your core includes the pelvis, abs, glutes, back, and chest muscles.
It is your core that provides your body with stability, balance and flexibility. Everything you do in your life starts with your core, whether it is bending over to pick up the pen you dropped on the floor, washing your car, playing basketball with your kids, or participating in an Ironman. A strong and stable core is important to help prevent injuries.
Another advantage to TRX is that you use your own body weight to adjust your personal fitness level simply by walking closer or further away from the anchor point. This keeps you constantly challenging your body through every exercise, minimizing wasted time switching weights.
TRX also helps in the fight against bone loss. The exercises on the TRX can be low impact while having the benefits of weight bearing exercises. You can add in a weight vest to make it even more challenging. The TRX helps you get in some ranges of motion you may not have been able to achieve before offering support while recruiting more muscles.
Are you looking for a cardio workout to lose weight and build muscle endurance? The TRX will fire multiple muscles, which increases the heart rate, burning more calories than sitting or standing through a "traditional" exercise. TRX can keep you constantly moving from one exercise to the next in a circuit-like manner. This strengthens your heart as well as increases muscular endurance.
Tell us if you've tried TRX! We love the added no-slip grip and confidence our men's and women's fitness gloves add to this challenging and fun workout! Order our workout gloves with wrist support for your next TRX class!