We know it's a bone-chilling-BRRRRR sort of cold across most of the country. What if we told you that you could have one less stop in your day AND participate in studio-quality Pilates classes? Unlimited Pilates streaming into your home – with master instructors like Basi-trained Kristi Cooper White – all for the price of one class at a boutique studio? Roll out your mat and cue Pilates Anytime classes: choose your level, choose your time and choose your instructor for a fully customized workout.
Kristi, pictured above, recently discussed the practical and therapeutic uses of WAGs and how her clients have benefited from WAGs by using them as Pilates wrist support gloves while practicing Pilates Anytime. She also gave us a sneak peak of the WAGs model releasing this year – WAGs Flex. We're very excited about the forthcoming addition, to be produced in the first half of 2011. Flex will be available at a price point that works for all budgets all while providing a level of support and injury prevention like its WAGs predecessors.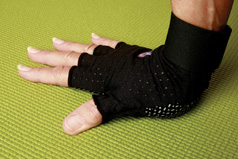 WAGs Ultra – This style has the addition of the adjustable wrist wrap for extra external support and came out of customer request.
Who Should Use: The WAGs Ultra is appropriate for people with arthritis, basal thumb joint pain, ligament injury, joint laxity (pre/post partum) and mild tendonitis. This wrist and thumb support glove is not recommended for chronic swelling or Carpal Tunnel Syndrome because of the elastic compression around the wrist.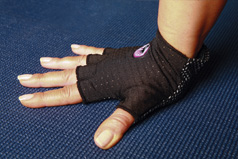 WAGs Pro – Appropriate for people with arthritis, basal thumb joint pain, Mild Carpal Tunnel Syndrome, Tendonitis, swelling or general wrist pain or discomfort.
Who Should Use: Recommended for people who don't really need the additional external support of the wrist wrap. Some people prefer the open wrist and find the wrap hot and constrictive (others love the feel of the compression). The Ultra and the Pro have the same gel pad so ergonomic benefits are the same.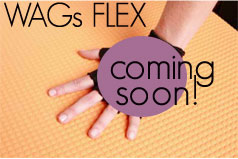 WAGs Flex – This new model will be arriving in early 2011 and features a slightly shorter thinner gel pad than the Pro and Ultra styles. The shorter gel pad allows for easier grasping so this style crosses over well to weight lifting and biking. It will retail for $30.00 per pair.
Who Should Use: This is geared to people with less severe wrist pain or who want to prevent wrist pain and discomfort.