Happy New Year to all!
We're finding lots of reasons to love winter in 2011!  Wintertime activities provide opportunities to add variability to your workout and a chance to escape boredom from doing the same indoor routine all winter long (although hot yoga or Pilates feels pretty great after coming in from the cold!). What awaits you in the great outdoors? Skiing, Snowboarding, Snowshoeing, Sledding and Snowga.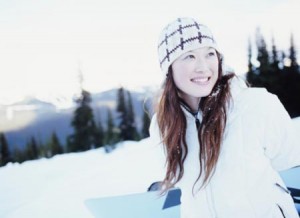 What on earth is SNOWGA? People have been practicing yoga outdoors since the time of its origin, some 5,000-10,000 years ago. Speed things up to the twenty-first century, where the fusion of Snow and Yoga has been formally connected forever, creating a new snow yoga practice known as SNOWGA. The mission of SNOWGA is to "empower, enliven and enlighten those who wish to improve their performance on the slopes through the compassionate teachings of yoga."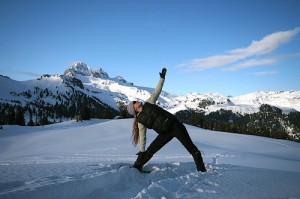 We're excited about SNOWGA and the challenge to take our chaturangas, vinyasas, inversions and planks (vrksasana) to the great outdoors this winter! WAGs have become so important to us in all of the above poses we had to ask the question: would WAGs help with outdoor yoga classes like SNOWGA? We bet our skis & snowboards the answer would be "yes"!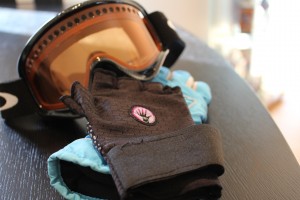 WAGs fit comfortably inside ski gloves and add a remarkable amount of  support and leverage, especially on the uneven surfaces found outdoors. WAGs also add cushion or support for any spills or tumbles you might experience when bracing for a fall – definitely a weight-bearing activity! – during your winter sports.
What are you using your WAGs for in 2011? Please share in the comments below, or on our Facebook or Twitter sites.  We may feature you in a future entry!