Do your students or members experience wrist or thumb
pain during yoga?
WAGs are patented yoga gloves designed to relieve wrist and thumb pain during asanas that require you to support weight on the hands!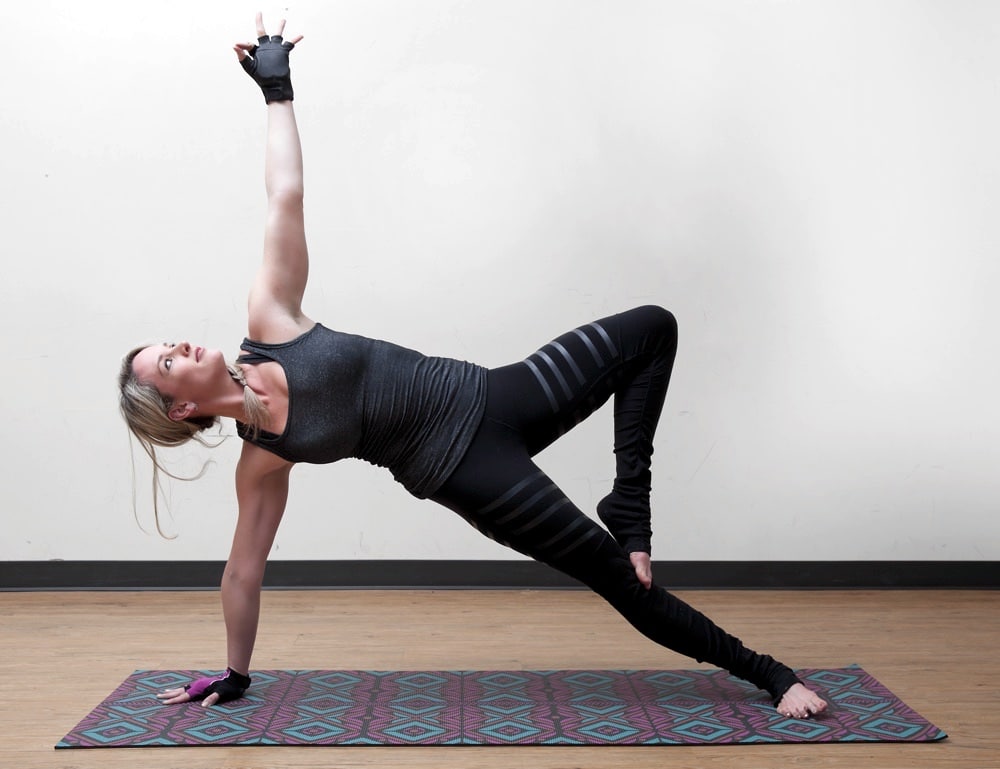 Wrist Assured Gloves (WAGs) were invented by an occupational therapist following a wrist injury because there wasn't a solution that enabled her to get back to her practice without aggravating her wrists. Now thousands have experienced the wrist pain relief that WAGs patented gel pad offers and are 'back on their hands' again enjoying the mind – body benefits of their yoga practice.

The Ergonomics of WAGs
Anatomically our hands are designed for precision and mobility, not weight bearing. It's no wonder that many people experience wrist pain or discomfort when supporting weight on their hands, especially with the wrists in full extension. And for those with tender wrists or thumbs, weak wrists, arthritis or tendinitis the pain is aggravated with weight bearing. Yet many yoga asanas, Pilates workouts and strength training exercises involve supporting weight on the hands. The pain and frustration cause many people to abandon yoga or these asanas, so they miss out on the strengthening benefits for the arms, back and core.

Our WAGs ladies workout gloves have anatomically contoured gel pads that are thicker at the heel of the hand and tapers towards the fingers forming a wedge. This reduces the extreme angle of wrist extension, easing the stress and pain in the wrist and thumb joints. The firm gel pad cradles and supports the hand and wrist- making weight bearing so much more comfortable!
Instructor and Studio Discounts
Would you like to provide a proven wrist pain solution for your students and studio members?
Hear what these WAGs users have to say:
WAGs changed my life! I have been practicing yoga for almost 30 years, but my practice was in serious decline because of tendonitis in my wrist. I always encourage my students to use a slant board for wrist trouble, but it is difficult in a vinyasa flow class because the whole flow is disturbed. WAGs have a slant board built in, so flow classes can FLOW! Problem is solved and I have my practice back. -Sara Ivanhoe, Founder Yoganation, Yogaworks CYT
Thanks for creating this product! We use it in our Physiotherapy clinic when teaching clients yoga poses for rehabilitation. It works marvelously and clients who were unable to weight bear through their wrists have no pain and they can finally start to strengthen their core and shoulder stabilizers. Great product! Highly recommended – Rebalance Toronto
I have thumb arthritis and your gloves are the only product that alleviates pain in my thumb joints during my yoga practice. Sure enough, elevating the palm, takes pressure off my thumbs. – Lynne Carr Registered Yoga Teacher
My right wrist is quite stiff from an old mountain bike accident. WAGs helped me continue to do ashtanga yoga despite this. -Lee Cancio, Surgeon C COL MIL USA Medcom AISR
I am so pleased with my WAGs. I am an avid Pilates and Yoga participant and my wrists became painful which interfered with my form and participation. After using WAGs for 2 weeks I'm happy to say that my yoga and Pilates is free of wrist pain again. Thank-You! -Ann Ellanson
I wanted to do arm balances and inversions in my yoga practice, but I couldn't due to wrist pain. WAGs are exactly what I needed with the built-in wedge! I've been using WAGs for weeks now and couldn't be happier. Thank you WAGs! -Kelly Bourne
All 4 supportive WAGs styles come with a 30 day money back guarantee. Help your students and members get rid of their wrist and thumb pain, so they can enjoy all the mind-body benefits of full participation and a consistent yoga practice. Order WAGs yoga wrist support gloves today!