Wrist Assured Gloves + So Much More
We've gone all out this year and compiled a Super Bundle to help you take charge of your health and wellbeing. Whether you have been diagnosed with Osteoporosis or Osteopenia, Arthritis, or you're recovering from from Tendinitis, we've got you covered.
Here's what's included:
1 Pair of WAGs Gloves (ULTRA or PRO)
2022 Virtual Bone Health Summit Sessions
Arthritis Joint Support Package
Calcium Unlocked & Demystified Package
Herbs & Spices for Better Bone Health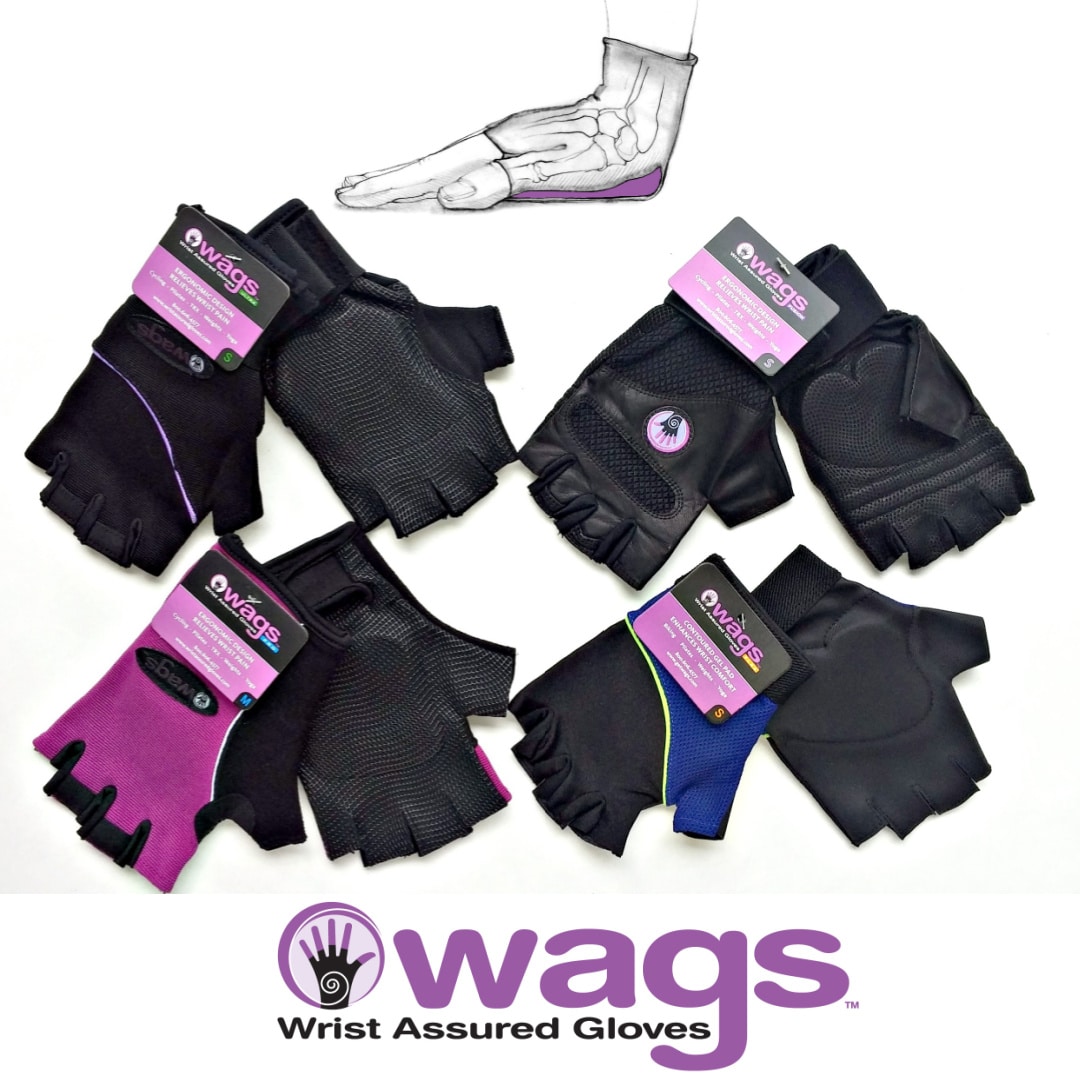 I've been waiting all year for this sale…
First, we have to talk about the various problems that can cause wrist pain. It's important to become aware of the many problems that can cause this cumbersome issue.
There are a number of syndromes, injuries, and problems which cause wrist pain that, in turn, can force you to accommodate your wrists while sacrificing the benefits of the full workout. When modifying you mostly sacrifice fully exercising your arms, shoulders, and core.
Here are four common wrist injuries that can affect you:
Arthritis
Arthritis is an inflammatory disorder that affects joints. This condition can become more common as we get older due to our joints degenerating throughout the years of use. Some of the symptoms can be wrist pain, swelling around the joint, and difficulty gripping.
Carpal Tunnel Syndrome
Carpal tunnel syndrome, also known as median nerve compression, is a condition that can weaken your hand and can cause pain, tingling, or numbness. This problem can manifest as weakness in your hands and having trouble holding or gripping objects, discomfort that can move into your fingers, tingling sensations that can move into your arm, and numbness in your palm, thumb, index, and middle finger.
Tendinitis
Wrist tendonitis, also called tenosynovitis, is a common wrist condition that is caused by irritation and inflammation of the tendons around your wrist joints. Some of the symptoms can include grinding sensation when the tendons move, redness and warmth of the tendons, and swelling around the wrist joint.
Thumb Arthritis
Thumb arthritis or basal thumb arthritis is a condition that commonly intensifies with age and occurs when the cartilage at the base of the thumb starts to wear away. You can experience swelling, stiffness and tenderness at the base of your thumb, decreased strength and range of motion when grasping, pinching, or moving your thumb, and the enlargement of the thumb joint.
Weak Wrists
Your muscles fatigue easily after several movement repetitions or static holds. There's an inability to keep the wrist stable when lifting barbells or holding hand weights in exercise. When weight-bearing on the hands you sink into the wrists instead of lifting out -causing wrist pain. Tendons get strained because the muscles can't bear the resistance and good form is compromised.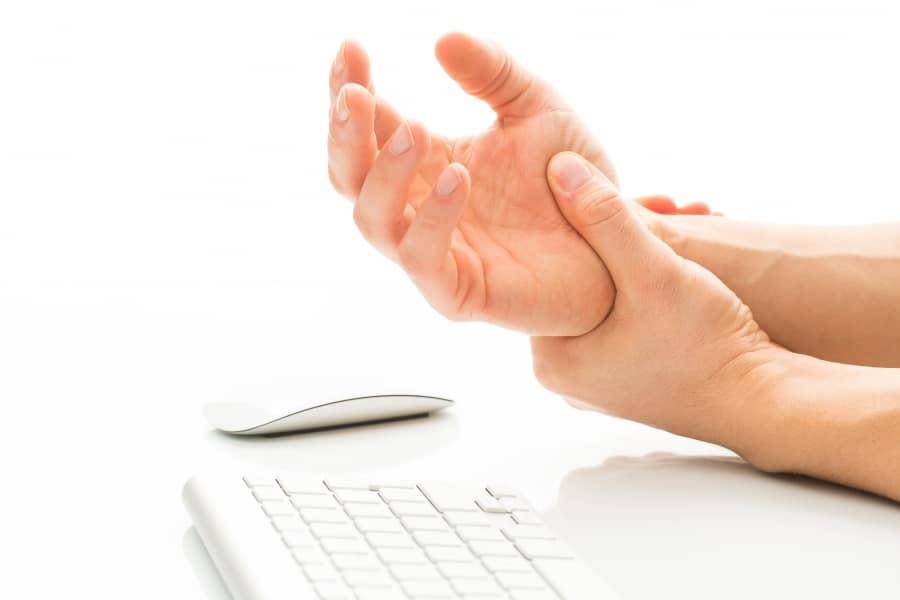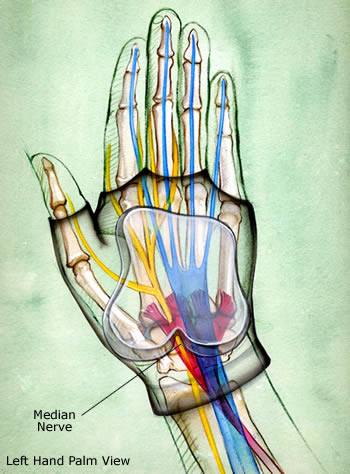 Don't let your condition ruin your workout.
 Any of these common problems and more can be the cause of wrist or thumb pain and discomfort. It can force you to stop working out or modify and discourage you from continuing your healthy routine and keeping an active life.
Luckily, at WAGs, we offer a variety of patented fitness or workout gloves that are meant to help you through these problems and support your wrists so you can continue your active lifestyle. Check the gloves we offer and pick the one that suits your needs the most!
CHOOSE ONE OF OUR TOP SELLING GLOVES
Either the WAGs ULTRA | or | PRO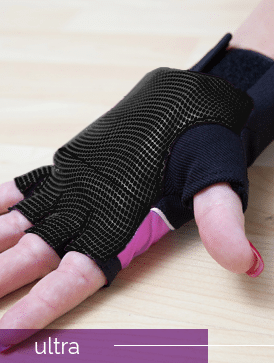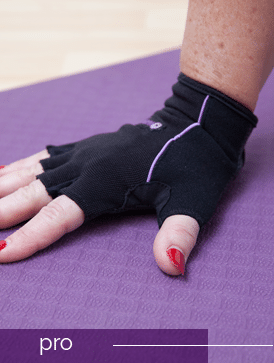 + Digital Bundle
Scroll to see what's included…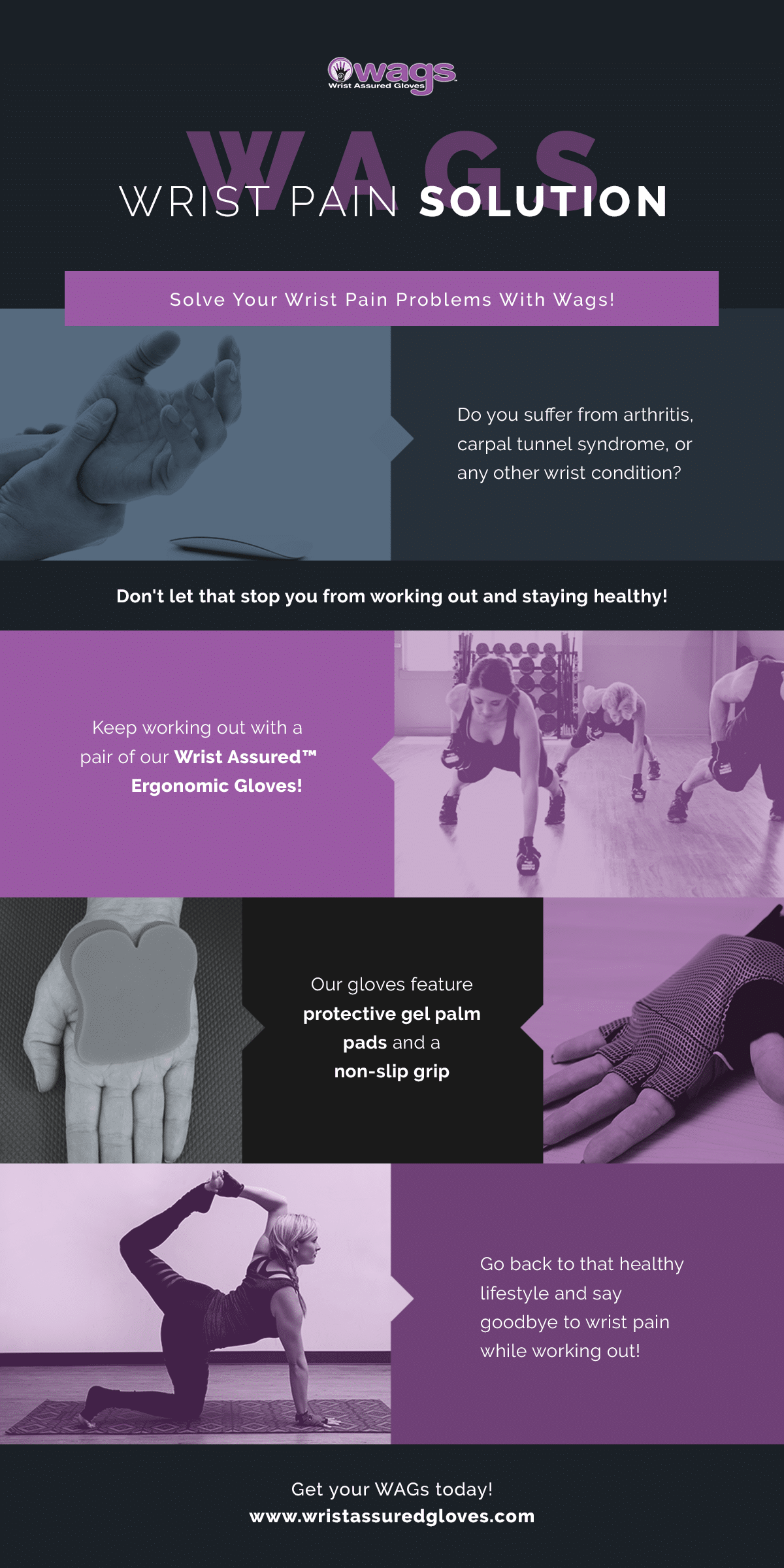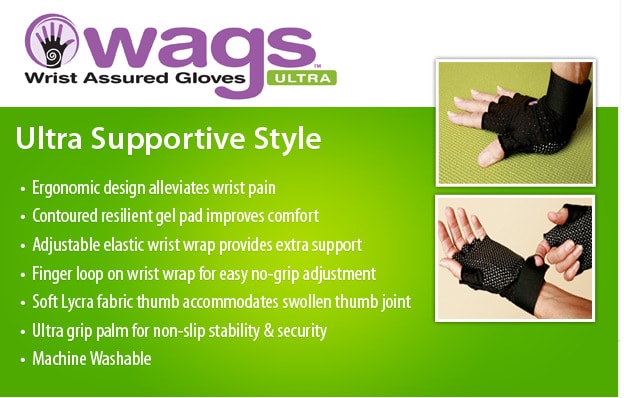 WAGs Ultra padded workout gloves are right for you if you want the support of our contoured gel pad plus the additional support of an adjustable elastic wrist wrap. The wrap provides soft wrist support without immobilizing your wrist.
A great choice for:

Arthritis
Tendonitis
Basal thumb joint pain
Ligament injury
Joint laxity (pre/post partum)
General wrist pain or discomfort
Prevention and joint protection

Not recommended for:

Carpal tunnel syndrome
Chronic swelling

-due to the elastic compression around the wrist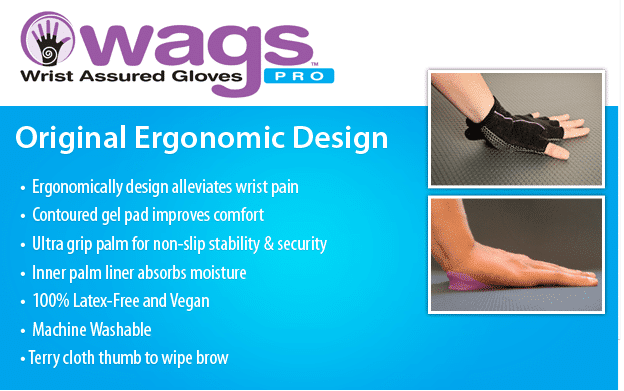 The Pro style have the same ergonomic gel pad as the Ultra, but without the wrist wrap. A great choice if you need the therapeutic benefits of the thicker gel pad, but not the support or restriction of a wrist wrap. They work great for carpal tunnel syndrome, arthritis, tendonitis, and more.
WAGS Pro Gloves are a good choice for:
General wrist pain or discomfort
Prevention and joint protection
Mild carpal tunnel syndrome
Basal thumb joint pain
Tendonitis
Arthritis
WE'VE PARTNERED WITH iPivot-Now TO BRING YOU THE FOLLOWING
We've partnered with Genevieve and Susan, co-founders of a cool company, iPIVOT-Integrative Health and Well-being! Genevieve is a physical therapist and registered yoga teacher. Susan is a registered herbalist, a certified health and wellness coach and a registered yoga teacher.
Together, they love sharing how to stay healthy and vibrant at any age! These two women are so passionate about empowering people to take CHARGE of their health – especially their bone health. They want to reach at least 100,000 women with their message that we DO have options, and not just with harsh pharmaceuticals. But with things as simple as movement, food choices, and community.
Our WAGs gloves are the perfect complement to people looking for wellness and improved health, no matter what ailments you are facing! The ergonomic design of our patented workout gloves fully support your wrists and diminish your pain while allowing you to do all your exercises in comfort.
Included with your Holiday Glove Bundle
Get 1-Pair of Gloves + 5 Bonus Goodies for just $97…
Our Holiday Bundle Includes Everything You See Listed Below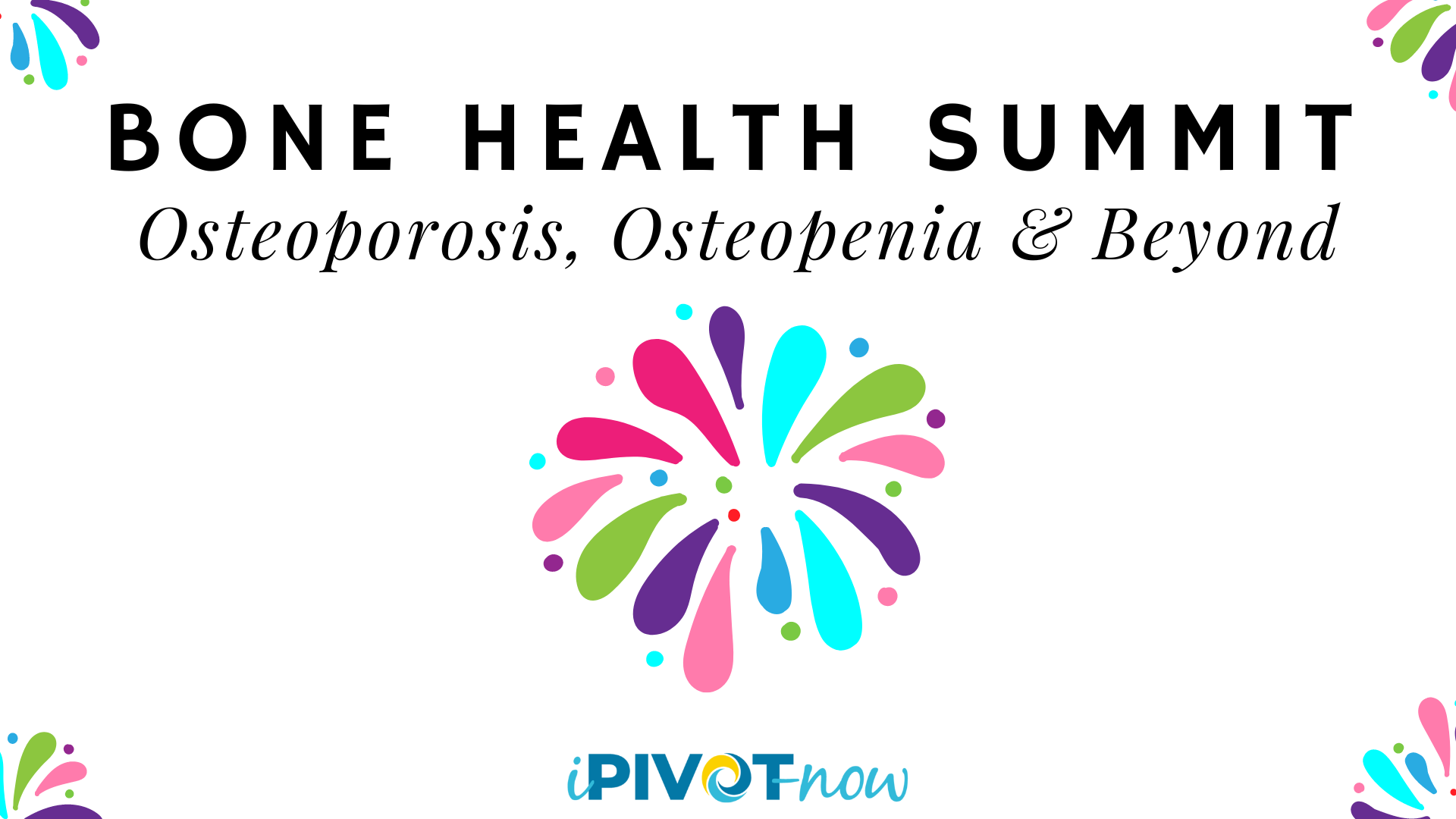 2022 Virtual Bone Health Summit
3x Complete Video Recorded Sessions…
» Yoga as a Remedy & Prevention for Osteoporosis
» Posture, Fractures, Prevent Falls & Stand Tall
» Fuel Your Herbs for Bone Health, Vitality & Longevity
$247 Value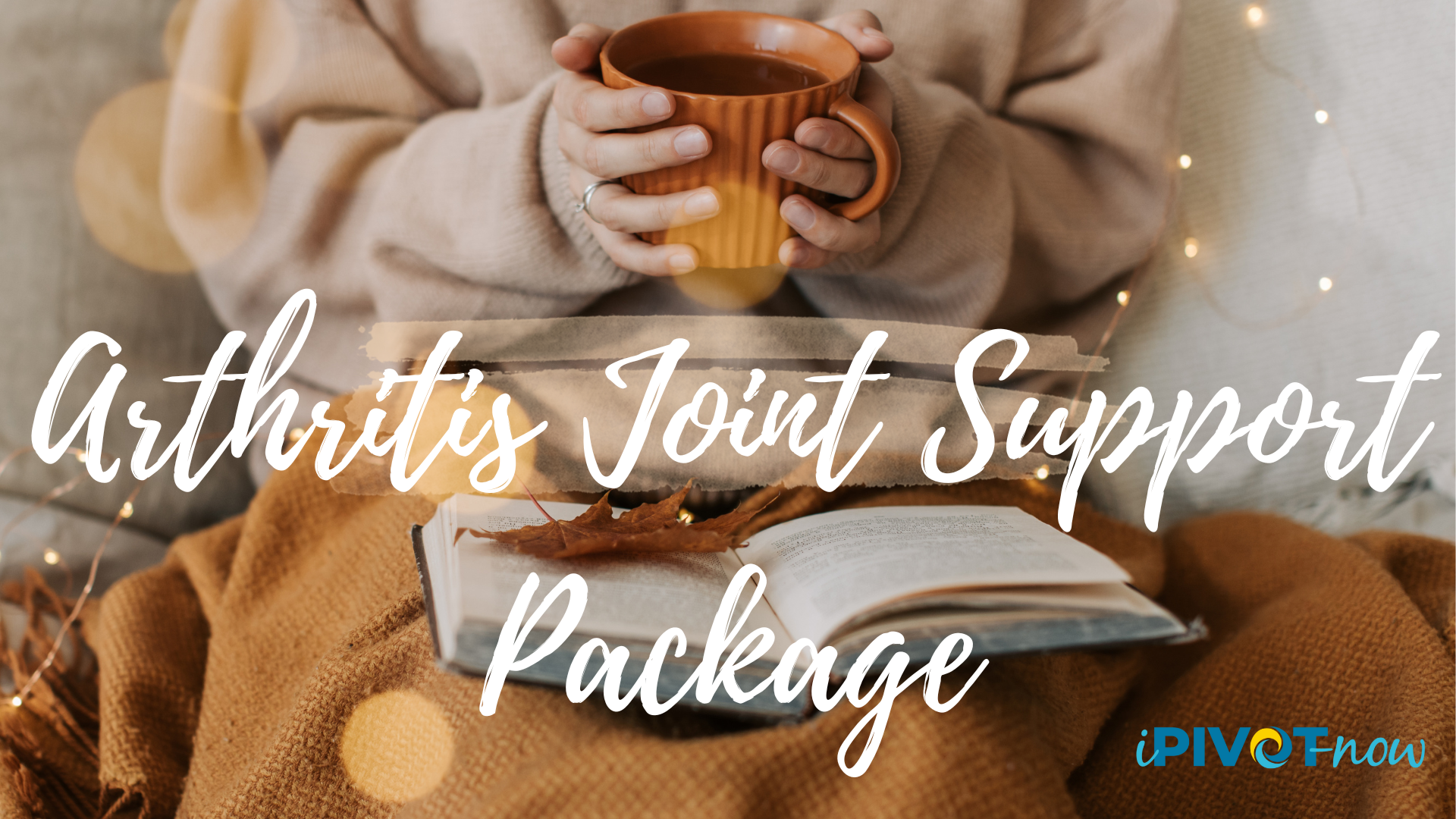 Arthritis Joint Support Package
5-Part Video Series…
» Yoga as a Save Your Thumb: Body Mechanics for Arthritis
» How Can You Ease Arthritis in the Bathroom
» 2 Simple Tricks to Combat Thumb Pain & Arthritis
» How to Avoid Pesky Thumb Pain
» Wrist and Forearm Strength Exercises
+ Arthritis & Joint Support Guide


$49 Value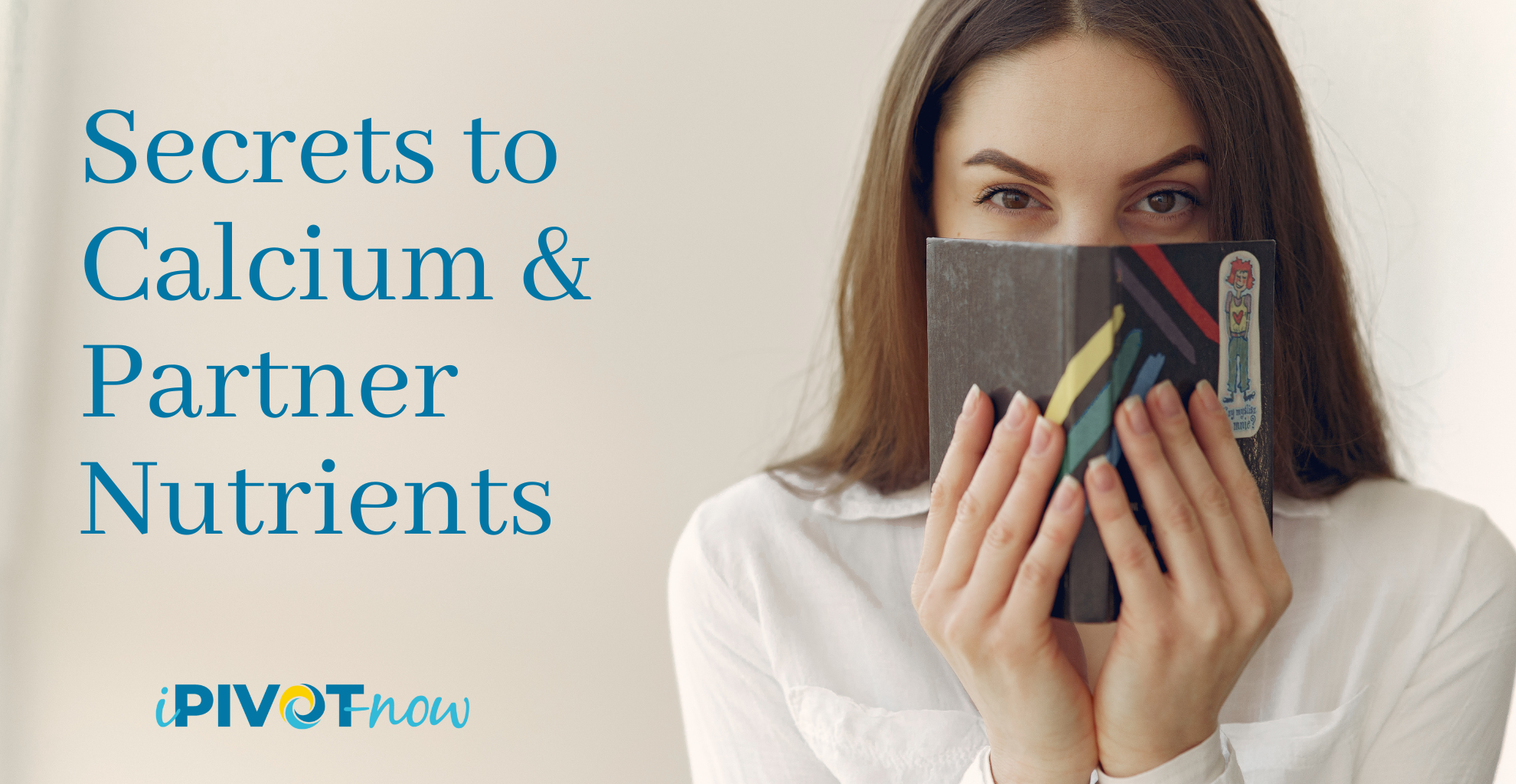 Calcium Secrets
Complete Video Training
$99 Value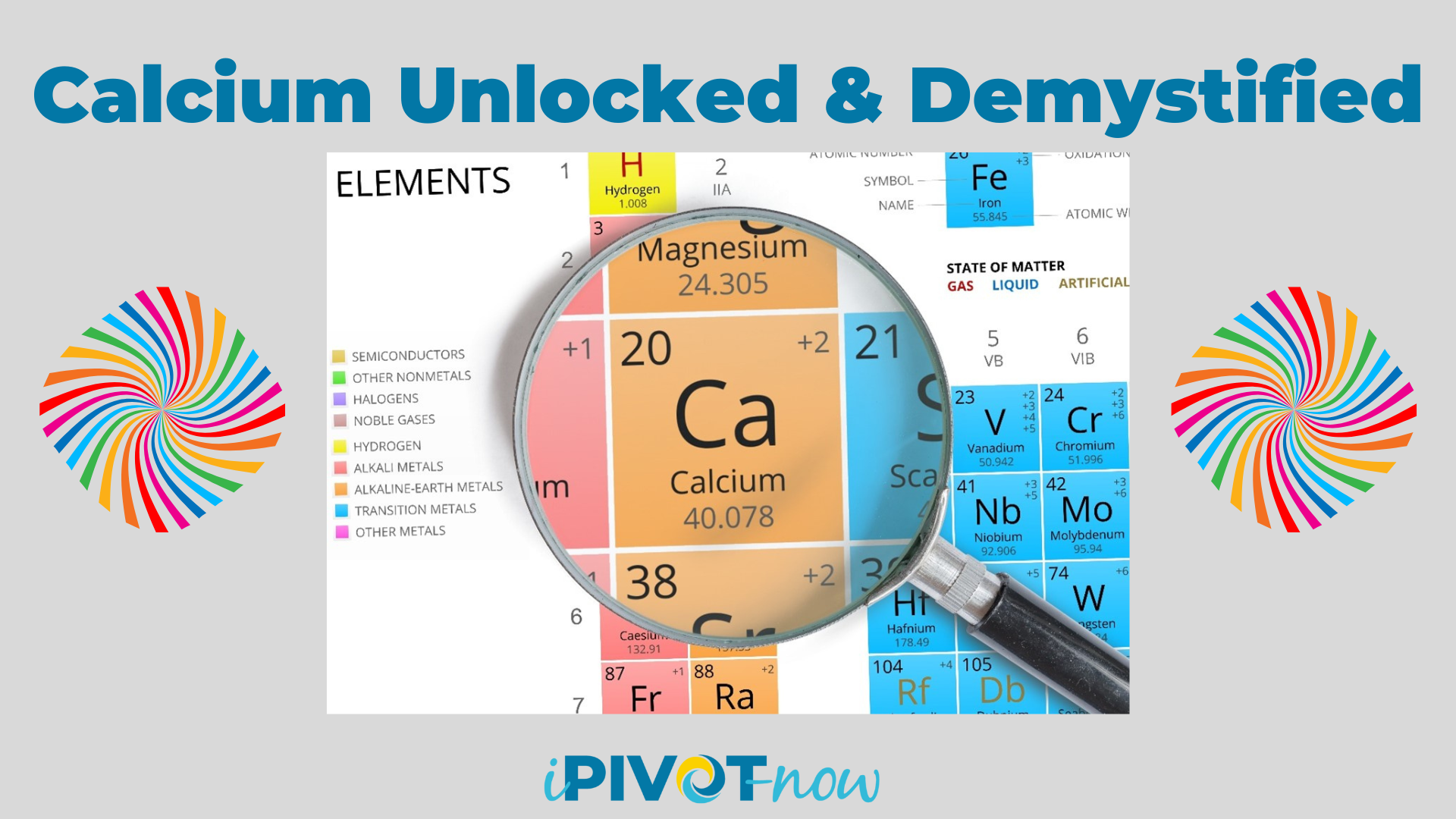 Calcium Demystified
Download Special Report
$49 Value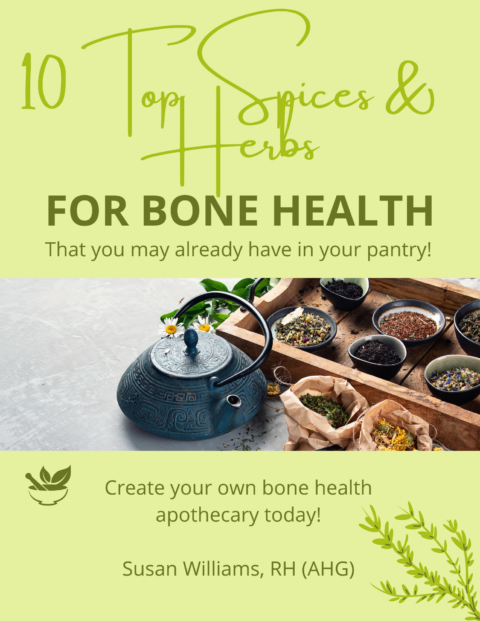 Better Bone Health
Top Spices & Herbs (Ebook)
$20 Value
I am so, so very grateful to have access to this summit and for the thoroughness of the information provided. 
The presentation explaining dexa scan results was excellent – informative and incredibly helpful to be able to hear from medical doctors.
I never realized how much is dependent on proper posture and how we knock our balance off by not having proper posture.
You'll receive an email with details about how to access all your videos, ebooks, handouts and digital goodies after completing your order.
What Our Clients Say
Try a pair of WAGs Today! | WRIST ASSURED, YOU'LL BE GLAD YOU DID.
My basal thumb joint was really bothering me and I thought I was going to have to quit working out. But WAGs cushion my wrists and thumb joint so well I can do everything in my bootcamp class! My weight and blood pressure stay down and my mood goes up. These gloves are a key element to my health.
Excellent gloves – they really help my wrists and hands and I am actually able to do push-ups, planks, and triceps dips with greater ease and comfort because the arm/wrist are stabilized. Have already recommended them. Love these gloves!
As a Pilates instructor I need to keep up my practice. My wrists became strained after carrying babies around all the time and the pain was frequent. I bought a pair of WAGs and am so relieved I did. They support my wrists so I can safely do my Pilates workouts without omitting exercises.
ORDER YOUR GLOVE BUNDLE TODAY!

Total Value $533
YOUR PRICE
TODAY
Only $97

30-DAY Money Back Guarantee
You Have a Full 30 Days to Experience Them Risk-Free