Intro to PoleStar:
Our team wrapped up the month of May exhibiting at the Polestar Pilates Conference hosted in San Diego.   Brent Anderson PhD, PT, PCS, the founder of Polestar Pilates, is a leading authority in performing arts medicine and Pilates evolved techniques for rehabilitation.  He owns and operates Polestar Physical Therapy and Pilates in Miami, FL which serves as a model in the use of Pilates for rehabilitation.  For the past 20 years Polestar Pilates has trained more than 4000 professionals in 50 different countries and has licensed education centers around the globe.
Off we go to San Diego:
JPP founder and CEO, along with our Marketing Intern made the quick hop from the east coast to sunny southern California. We followed our two die-hard workers, Paula and Whitney (pictured below), along their journey and share here the highlights of the amazing World Polestar Pilates Conference "Building for Life."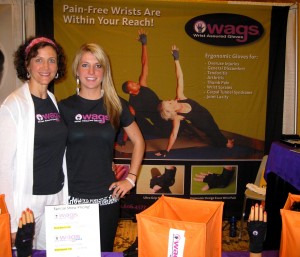 The main focus of this conference was, "to develop a balanced mind, body, and spirit through exercise, good hygiene, good nutrition, plenty of sunshine, fresh air, and a balance between work, play, and rest"(Anderson). With over 42 educators, 300 attendees, and 18 vendors representing the U.S. and other countries –you guessed it… the conference was a hit! Being a smaller, yet targeted conference it was personal and user-friendly as well as educationally stimulating and intriguing. Now, on to our comprehensive Polestar Pilates Conference Review!
The Lectures:
Dr. Libby Weaver gave an exceptional lecture on 'Nutritional Wisdom: The Fuel for Optimal Health'. She discussed how a considerable amount of diverse elements such as, calorie intake, stress hormones, sex hormones, the liver, thyroids, insulin, gut bacteria, alkalinity, and emotions affect the body.  An intriguing part of Dr. Weaver lecture revealed that, "humans store fat when they don't feel safe, usually in areas of relationships, finances, and work. I don't necessarily mean safe from burglary…many people overeat so they don't have to truly feel or acknowledge the emotion behind their behavior" (Weaver). The lecture went on to explore emotions as a factor of weight gain and not being able to burn off that stubborn fat. If you are interested in learning more from Dr. Weaver check out her bestselling book titled Accidentally Overweight.
Other lectures featured at the Polestar Pilates Conference were James Oschman, PhD, discussing his ground breaking research on healing energy and the scientific evidence behind energy medicine. Carol Davis DPT, EDD, MS FAPTA, speaking about Epigenetics and Fascia-the new science of subtle energy and cellular function and Sherri Betz PT, GCS on Posturing for the Future –which focuses on special populations, osteoporosis, and geriatrics.
Educational Sessions:
The attendees were booked from early morning to dinner time with a diverse range of class options.  The day started with 6am meditation followed by movement classes from 7 to 9 then lectures and workshops throughout the day.  The diverse workshops covered all the Pilates Apparatus, Pilates Mat Work, sport specific Pilates, unwinding the spine, neuromuscular rehabilitation and much more!
Expo Hall Action:
As if the lectures and classes weren't enough, there was more fun in the Expo Hall. Center stage demonstrations of the latest fitness equipment included Gyrontonics, Orbit, CoreAlign, MyoTool, Smart Spine Works, Power Plate and Marodyne Medical's vibration plate. In addition there was a creative Polestar auction where the attendees could purchase items with Polestar Bucks (think Monopoly).
At the JPP booth we previewed our newest style in the WAGs line –the WAGs Flex glove.  Our all around, entry level model can be worn for Pilates, yoga, biking, weight lifting and more.  The Flex style targets those with less therapeutic needs or someone who simply wants to prevent the onset of wrist pain. WAGs Flex will be available on our website in approximately one month –so stay tuned.
Farewell:
The conference concluded with a fun, engaging Polestar Pilates party, where one could find, all the participants, vendors, and guests sporting white as they enjoyed themselves with their new friends and acquaintances.
For more information about the event or Polestar Pilates please visit: http://www.polestarpilates.com